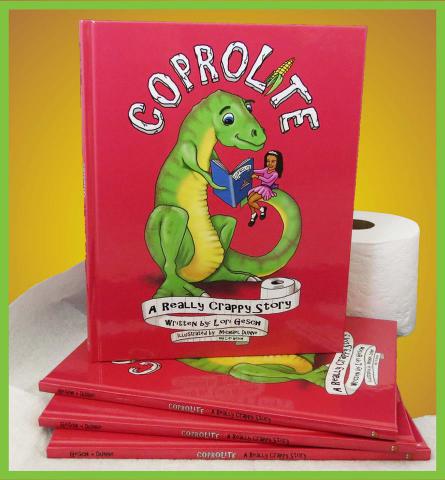 St. Paul, MN - Have you ever heard of coprolite? It is fossilized feces! Sure, it's been around for a long time, but only recently has this once underappreciated remnant of the prehistoric past began to get the attention it deserves. Fossilized bones can give us an idea of what dinosaurs looked like, but coprolite can tell us about their diet, digestive systems and possibly even the maladies from which they suffered. 
Coprolite: A Really Crappy Story by Lori Gesch, illustrated by Michael Dunne and herself, brings a breath of fresh air to the subject of ancient expulsions. Beneath the giggle-inducing, witty rhyme and brilliant illustrations, are actual scientific facts about the subject matter. Couple that with a section at the end of the book containing photographs of verified coprolite specimens, blend in hidden pictures, and you have a combination sure to entertain and peak the curiosity of young minds and those of the young at heart. 
As a serious coprolite collector and private researcher, Gesch enjoys sharing her fossilized fecal samples with children and adults alike, giving presentations to home-school groups, and those visiting the dinosaur dig sites where she volunteers. "This book evolved while putting together educational material for presentations," says Gesch. "I wanted to come up with a fun way for kids to remember a few relevant scientific words." In her book she explains the roots of word coprolite: 
"Kopros is a word the Greeks used for dung. 
Lithos, likewise, means stone in that tongue. 
Scientists like to use these big words, 
So no one knows when they talk about turds." 
Reviewers say: 
"[The book] may actually get children seriously thinking about a career in the sciences." - Jack Magnus for Readers' Favorite 

"Although I tittered childishly throughout, this book could easily be a standard quick-reference on any curator's desk…" – Jacob Jett, Dinosaur Nerd (and Preparator) for Rocky Mountain Dinosaur Resource Center 
General Information: 
Title: Coprolite
Subtitle: A Really Crappy Story
ISBN: 978-0-578-17005-3 
Publication Date: Oct 2015 
Author Location: St. Paul, MN Published by: Corrine Mahoney 
Formats: 8" x 10" Hardcover and eBook print replica (Kindle) Retail Price: $14.95 (hardcover) $7.95 (Kindle) 
Genre: Children's Educational/Humor/Science Pages: 32 
Target Audience: Recommended for children 10 and over due to some use of larger words. However, younger children may enjoy the illustrations and hidden pictures/references. 
Review copies and FUN interview opportunities available on request.