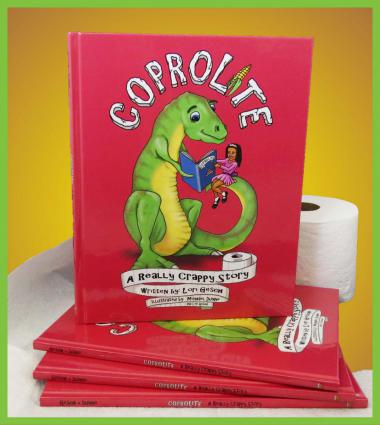 Coprolite: A Really Crappy Story is out and available at the following fine retailers:
    ZRS Fossils and Gifts 3018 Lyndale Avenue South, Minneapolis, MN 55408
    Tri-State Museum 415 5th Ave, Belle Fourche, SD 57717
    Texas Through Time 110 North Waco Street, Hillsboro, TX 76645
    Museum of Geology, South Dakota School of Mines, 501 E. Saint Joseph Street, Rapid City, SD 57701
    Amazon.com  (Kindle format)
    eBay (out of stock)
Yep, you heard right. In July 2018, a real POOSEUM opened in Richmond, Tasmania, and A Really Crappy Story is being told SOLD. Stop by and learn why fecal matters. They will feature coprolites and dried droppings. Life doesn't get better than scat -- unless of course it's fossilized.
Autographed Copy - Personal messages 
If you would like to buy a copy signed by the author, click the Buy Now button.  If you would like to include a personal message, please enter the message below prior to clicking the Buy Now button. Please note, books with personal messages may not be shipped in a timely manner. Please allow 6 - 8 weeks for delivery.
or 
Attend one of the book readings/signings and fun coprolite fossil presentations listed below:
Sorry...no public book readings are scheduled at this time.
Wholesale pricing is available for retailers and libraries. Contact us at info@areallycrappystory.com for details.