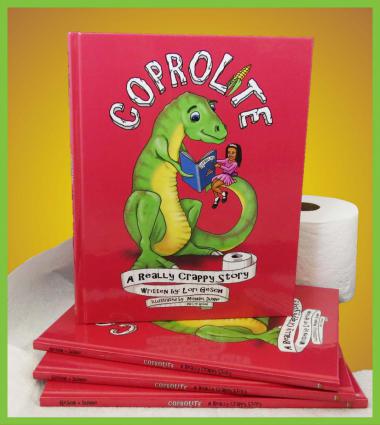 Coprolite: A Really Crappy Story is out and available at the following fine retailers:
    ZRS Fossils and Gifts 3018 Lyndale Avenue South, Minneapolis, MN 55408
    Tri-State Museum 415 5th Ave, Belle Fourche, SD 57717
    Amazon.com  (Hardcover and Kindle format)
    eBay (signed copy with Triassic coprolites - sold by ahappyhunter)
Coming in July 2018 to the Pooseum!
Yep, you heard right. In July 2018, A real POOSEUM will be opening in Richmond, Tasmania, and A Really Crappy Story will be told SOLD. Stop by and learn why fecal matters. They will feature coprolites and dried droppings. Life doesn't get better than scat -- unless of course it's fossilized.
Autographed Copy
If you would like to buy a copy signed by the author that includes a personal message, please enter the message below, and click the Buy Now button.
or 
Attend one of the book readings/signings and fun coprolite fossil presentations listed below:
Sorry...no public book readings are scheduled at this time.
Wholesale pricing is available for retailers and libraries. Contact us at info@areallycrappystory.com for details.